NCD HTML Design Guide
PDF Edition
V6.0 is now in progress. Please wait for a while. Of course, v5.0 is downloadable as usual.
26th March 2002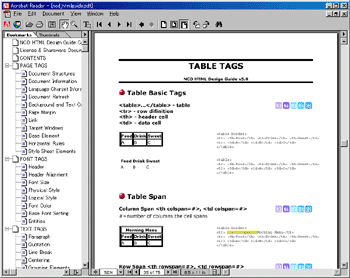 NCD HTML Design Guide is visualize guide of html on the web distributed since 1994, and now available in PDF format!
PDF edition features:
Downloadable.


Printable all at once, or some part of the contents easily.


Output to the paper is beautiful. PDF page is in the letter size format, so never happened unexpected cut off the contents as web page.


You can view the complete rendering result of every html tags on the supported browser. It is impossible in the html edition on the web, because the rendering result depends on the user's browser.


New explanations added to some difficult parts to understand. They are visually explanations as possible as we can.


Point highlighted on the complex html source. You can get easily which part affects the result.

It has html page samples for difficult parts to understand on the printed media. For example, link, frame, and some.


Acrobat bookmarks make it easy to jump to the other section of the document. Bookmark is always displayed on the left side of the window, but you can hide it if you want. Also, you can jump from the top contents page and html tag list as same as html edition on the web.


Support Internet Explorer (3.0, 4.0 and 5.0) and Netscape Navigatior (3.0 and 4.0), and show the icon of support browsers for each tags.


Support the standalized specifications, HTML2.0, HTML3.2, HTML4.01.


Easy understand, because this guide shows the rendering results visually!
NCD HTML Design Guide v5.0
Here is a complete pdf edition of NCD HTML Design Guide v5.0.

Please download the archive which suitable for your system. After extracting the archive, the data will become about 2.5MB.
After download and extract the archive, you'll get the ncdguide directory. It contains the PDF ncd_htmlguide.pdf, and samp directory for some html samples.
To view the html design guide, double click the ncd_htmlguide.pdf, or open it from Adobe Acrobat Reader.
The Adobe Acrobat Reader is required to view the PDF document. If you don't have it, please download and install.



If you find the NCD Html Design Guide useful and continue to use it, you should consider sending the shareware fee.
Shareware fee helps Network Communication Design and support future quality guide. Thanks for your support!
One copy of the html design guide is US $5.
All orders are processed by KAGI, an excellent payment collection service. Please click the following button, and submit the fee through a secure order form.
If the above button doesn't work, please click
here
.
If you have any comments about the pdf edition, please send mail to:
pdfdocument@ncdesign.org